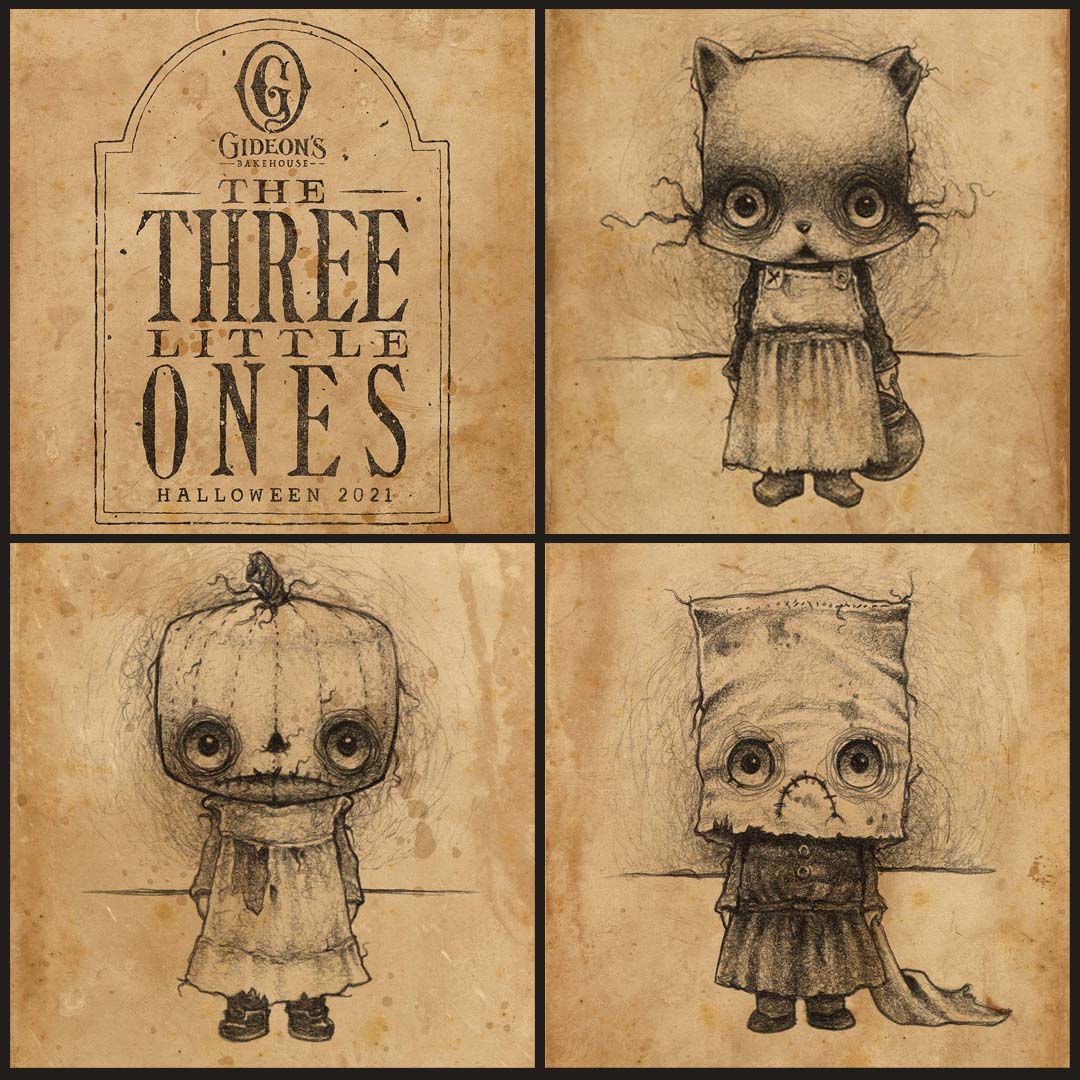 Three Little One Print Set
$48.00
Out of stock
The Three Little Ones is our first Signature Edition Print Set featuring four 8×10 heavy stock prints served up in a branded black envelope. Each set contains a nameplate signed by artist Michael Reyes, and Steve Lewis, creator of Gideon's. The other three prints focus on your favorite Trick-or-Treaters, Adeline, Abigail, and Agatha, the Three Little Ones. This release is one of our favorite things! Easy to frame and even better to gift because the holidays are here! 🎃   Three Little Ones will ship flat packed and separate from other items should you purchase multiple items with these prints.
The story of the Three Little Ones:
Each year, on the eve of hallows eve, a trio of mysterious visitors we do receive. Quietly they descend from the orphanage on the hill, donning tattered costumes and loot bags ready to fill. As if by magic, they appear from the fog, scaring neighborhood children and many a family dog. And now, these three sisters, we would like you to meet and decide for yourself, is it a trick or a treat?
First, there's Adeline, the eldest of the brood. What some see in her as cunning, others see as shrewd. Though many stay clear for fear of being bitten, the truth is Adeline is as sweet as a kitten.
This is Abigail, the middle child. She speaks not a word, and her temperament is mild. Don't take for granted her serene disposition; one cross of Abigail could land you in critical condition.
Finally, there's Agatha, the littlest of the bunch. What she lacks in size, she makes up for with a punch. Not one to accept hand-me-downs, she's content spending the afterlife in a burlap sack with a stitched-on frown.